enterade® - A Scientific Breakthrough with Profound Benefits for Cancer Patients
enterade®, a plant-based medical food, is a scientific breakthrough clinically proven to significantly reduce the side effects of cancer treatment, including nausea, diarrhea, fatigue, weight loss, and dehydration. It is backed by 4 published, peer reviewed studies, and successful clinical trials at Dana-Farber, Mass General, 21st Century Oncology, and the Markey Cancer Center.
enterade® is used by patients at over 700 leading cancer centers, has successfully helped 50,000+ patients, and is cited by "Oncology Nutrition for Clinical Practice, Second Edition," a leading textbook for oncology registered dietitians. enterade®'s formula is protected by 12 key patent families, 7 issued US patents, 66 total global issued/allowed patents, and 49 pending/published patents.
enterade® took over 10 years to develop. It originated from the BioSHIELD 4 Mission to Mars program and a $40 million NASA grant to develop solutions to the severe GI side effects caused by deep space radiation. enterade®'s founder, Dr. Sadasivan Vidyasagar, was the first to discover that precise combinations of plant-based amino acids (RxAAs™) can naturally treat proteins that become dysregulated due to severe environmental stressors, e.g., radiation, and cause severe GI toxicity. Dr. Vidyasagar had an epiphany that cancer treatments such as chemotherapy and radiation therapy cause the same damage to the GI tract as deep space radiation. Working with oncologists and gastroenterologists, enterade® was formulated to repair the damage to the GI tract caused by cancer treatment.
A Clinically Proven Medical Food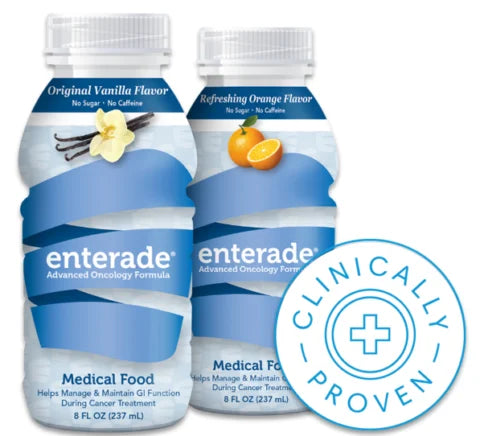 Many years of costly pre-clinical and clinical trials were required to bring enterade® to market and took the combined efforts of a dedicated team of scientists, researchers, oncologists, and gastroenterologists at leading scientific institutions across the world.
enterade® costs more than sports drinks or oral rehydration solutions because it is not a lifestyle beverage—it is a clinically proven medical food with a mission to help cancer patients into remission by reducing the adverse GI side effects of cancer treatment. When patients feel better, they can fight harder, and get well faster. We are working hard to make enterade® eligible for reimbursement and even harder to get it covered by insurance. Our team is dedicated to delivering on our core purpose of helping give cancer patients suffering from severe side effects back their lives. It is our sincere hope enterade® can help accomplish this for cancer patients across the globe.